Dividing Debt In a Divorce
We understand that divorce is stressful, especially when it comes to finding a fair and amicable resolution to debt responsibility.
In addition to dividing your assets, The Dadvocates can also represent your interests in settling debt divisions during your divorce.
Learn more about debt division laws in Colorado, and contact our divorce attorneys to ensure your rights are protected...
Marital Debt vs. Separate Debt
Debt is considered either marital or separate debt. Marital debts are any debts acquired after marriage but before the date of separation. These may include mortgages, car loans, and credit card bills. Debts incurred before marriage or after separation are called separate debts, and these must typically be paid by the spouse that incurred the debt.
Assets and Debt Go Hand in Hand
Many of the same principles applied to marital assets also apply to marital debts during divorce proceedings. Both property and debt acquired during a marriage are generally assumed to be shared between both parties. While assets tend to be the primary focus during divorce proceedings, debt distribution is of equal importance in a fair resolution.
What Is Shared Among Couples?
"The Dadvocates has an excellent team of lawyers that are caring, compassionate, and work hard to ensure that the divorce process is a smooth one! I would really recommend the firm to anyone considering a divorce..."

James Harris
Understanding the Link Between Debt and Divorce
While most people believe that finances are a main source of stress in a marriage, there is in fact a proven relationship between debt and marital dissatisfaction...
Equitable Distribution of Debt
There are two main legal principles that dictate how marital property and marital debt are divided during divorce in the United States: community property and equitable distribution. Colorado is an equitable distribution state meaning both assets and debt are to be dividing according to what is "fair."
A Closer Look at State Laws
Learn more about the difference between the legal principles that guide divorce settlements...
Community Property
Marital property is defined as either community property or separate property. Community property includes all property acquired during the marriage (including debts) while the separate property includes assets accumulated before marriage, by inheritance, or court awards. Community property is automatically assumed to be owned by both parties and is divided evenly in two, while separate property is kept by the owner.
Equitable Distribution
An equitable distribution state divides property according to what is "equitable." This does not necessarily mean evenly in two. It is up to a judge to decide what is fair, which typically leads to the spouse with a higher income getting a larger share of the property division. However, the same principles apply to debt. A judge may allocate a larger portion of debt responsibility to the higher-earning spouse as they are in a better position to pay.
The Debt Division Process
Dividing both property and debt in the state of Colorado is a three-step process:
Debt Distribution Assistance
The attorneys at The Dadvocates work diligently to defend the rights of men and fathers in all legal matters. Debt distribution in a divorce can be a complicated process that seriously impacts your future financial well-being. Our firm is here to provide knowledgeable legal counsel throughout the process to alleviate your stress and ensure a fair outcome. Even if you and your spouse are divorcing amicably, it is important to have a legal representative looking out for your best interests to avoid unnecessary mistakes and financial strain in the future. Men throughout Colorado can contact The Dadvocates today and speak to an attorney. You can reach our practice online, or by calling:
"I Highly Recommend this Law firm..."
"At a time when I was at my very worst, upset and not thinking rationally, I found the Dadvocates. They represented me in my divorce and did such an amazing job that I've been told by many "Wow, I can't believe you got that kind of settlement! That's like never heard of!"
Walter Stones
Debt can include mortgages, vehicle loans, credit cards, business loans, bank loans, tax debt, student loans, and any outstanding invoices or bills.
Our team
can assess your income status and any other economic issues that might impact your debt situation in the future to ensure the court divides your debt appropriately. Debt is separated into three categories...
Secured Debt
Secured debt includes loans supported by collateral, such as mortgages or vehicle loans. If you default on your payments, creditors can recover collateral to pay off as much of the debt as possible.
Unsecured Debt
Unlike secured debt, unsecured debt is not attached to any form of property. This type of debt includes utility bills, credit card debt, student loans, personal loans, and medical bills.
Tax Debt
Tax debt is any amount owed to the Internal Revenue Service (IRS) and will often be divided according to the way in which tax returns were filed. The IRS also offers several options for evenly dividing tax debt responsibility including spousal relief programs.
Joint and Individual Debts
Debt responsibility in a divorce does not come down to whose name is on the loan or credit card. Responsibility hinges on the distinction between marital and non-marital debt. If someone takes out a loan in their name alone that benefited both parties in the marriage, then that debt is shared responsibility. On the other hand, it can be argued debt incurred on a shared credit card used for expenses outside of the marriage should be that spouse's sole responsibility.
Many Americans Are Liable for Credit Card Debt
Student Loan Responsibility
A student loan taken out before marriage is considered separate property and does not automatically become shared debt after marriage. However, the responsibility becomes much blurrier when the student loans are taken out during the course of the marriage. Many believe they should not be liable for their ex-spouse's student debt, as the college degree or another type of higher education is a valuable asset that only the student walks away with. Nevertheless, the courts often split the responsibility of student debt between parties arguing that an education jointly benefits a married couple.
It Comes Down to the Court's Discretion...
Colorado does not require that a judge take a specific approach to student debt, meaning loans taken out during a marriage are subject to the same equitable division principles as other debts.
Negotiating Marital Debt
Most Colorado divorces are resolved through negotiation and settlement rather than going to trial. Negotiation is the ideal time to come to an amicable agreement on how to divide property and debt, especially when the asset (like a family home) cannot be split evenly.

When it comes to debt negotiations, it is important to consider alternatives to the divisions to achieve a fair and favorable financial outcome. For example, we can propose trade-offs to debt responsibility such as settling student loans or credit card debt in exchange for stocks, bonds, or other property. While you will not be held responsible for a spouse's separate debts, you may be able to achieve a better settlement by negotiating debt payment in return for assets of comparable value.
"Thanks for all of your help in getting my divorce resolved. Your help and assistance were very valuable in assuring that everything was taken care of in the best manner. I appreciated it as my life went through the transition."

Jimmie Hoffman
Enter into Negotiations with Strategy
Divorce negotiations are complicated, even for seemingly simple areas like credit cards,and it can be hard to reach a fair and amicable resolution. The Dadvocates have experience in calculated negotiations and can help you secure important compromises in your divorce settlement. Our family law attorneys will structure your negotiations to help you walk away with not only a fair portion of debt responsibility but with the most beneficial financial resolution.
Contact our Colorado law firm today to find out how we can resolve your divorce with minimal stress and court involvement. Speak to a Dadvocates attorney about strategic divorce negotiations online, or by calling:
Avoiding Unfair Debt Responsibility
Unfortunately, clients often come to us with lists of debt irresponsibly incurred by their spouse without their knowledge. While many expenses that constitute marital debt such as mortgages, vehicle loans, and credit card debt stem from purchases made that benefit the couple jointly, a significant amount of debt may also come from selfish and reckless purchases by just one party. For example, if a spouse is having an affair and spends lavishly on vacations, clothing, and gifts, they should be held responsible for the debts stemming from extramarital relations.

Colorado divorce courts will attempt to pinpoint when and why debts were incurred to make a fair determination of debt responsibility. However, your divorce attorney will fight for divisions on your behalf to ensure you are not liable for your partner's irresponsible spending.
Presenting a Case for Unfair Debts
There are many situations in which debt responsibility should fall on the shoulders of a single party in a divorce. We will examine debt incurred before and during the marriage, as well as after separation to ensure you are only taking on responsibility that should be shared. It is our job to prove you are not liable for debt incurred under certain circumstances such as:
Debt acquired before the marriage
Reckless or selfish spending without your knowledge
Debt stemming from marital misconduct
Ensuring the Best Outcome for Our Clients...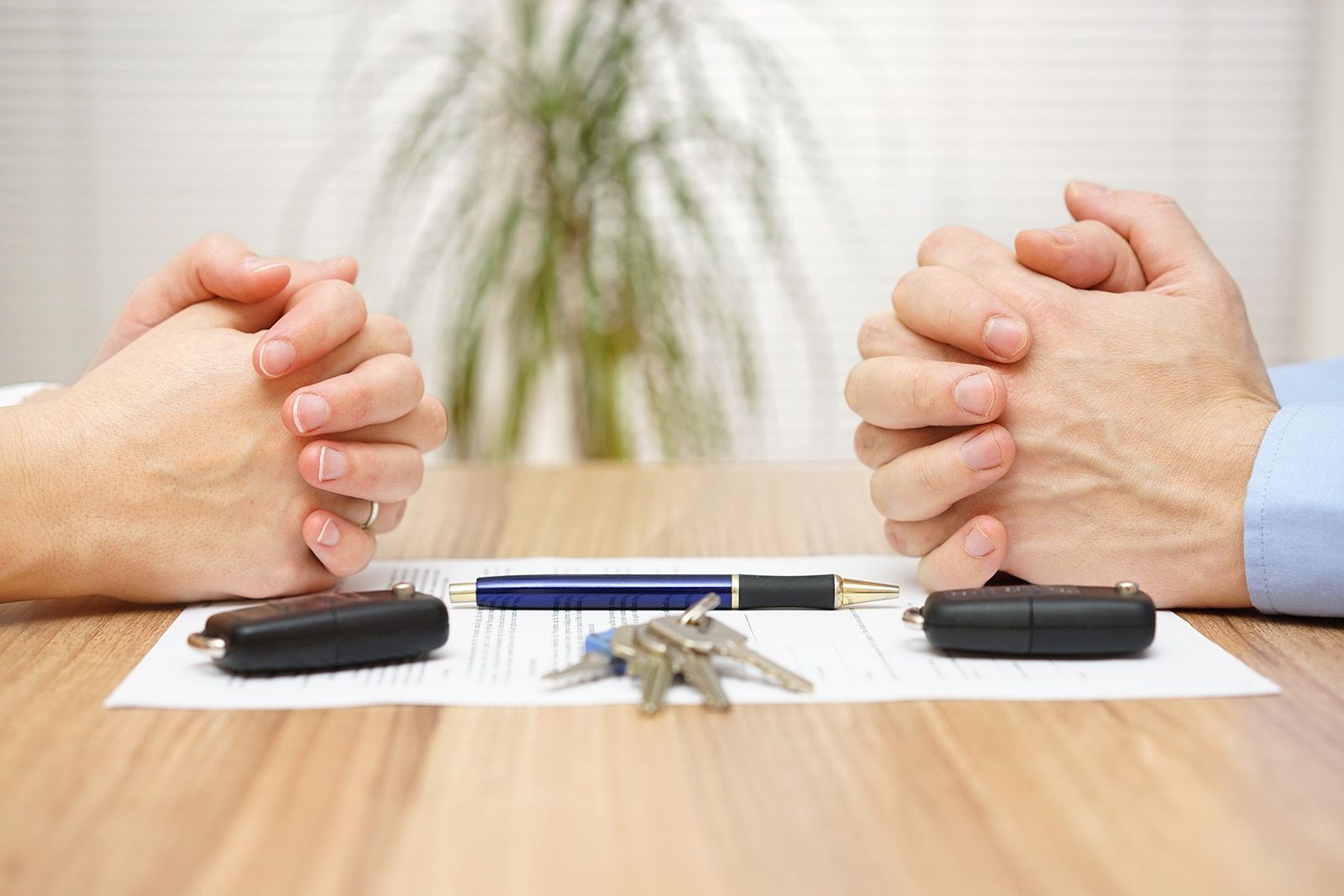 Debt Liability
Unlike the court, creditors do not care how debt is divided in a divorce as long as it gets paid. If your spouse fails to take responsibility for their share of the debt, it is possible for creditors to go after you for payment. While help from our family law attorneys can prevent such a situation from occurring, your divorce agreement will protect you from liability for your spouse's debt obligations. If refusal of payment does arise, you can sue your ex-spouse for contempt of court. Typically, the court will pass down judgment ordering them to pay creditors and/or liquidate assets in order to cover obligations. Meanwhile, our lawyers are here to offer aggressive legal protection to reduce your exposure to creditors and defend your long-term financial security.
"The utmost care and professionalism..."
"My divorce was very high conflict, but the way Samera handled it in and out of the courtroom was amazing. She eventually got me what I was asking for despite the ups and downs and difficulties in the case and she handled it with ease.."

Brandon Duran
How Bankruptcy Can Affect You
Declaring bankruptcy after a divorce does not absolve a person of all debt obligations. In fact, creditors will likely go after the other party involved in the marital debt to seek payment. An ex-spouse declaring bankruptcy following a divorce has the potential to damage your finances by making you the sole party liable for marital debts. If you are also not in a position to pay for these debts, you might have to consider filing for bankruptcy as well.
Bankruptcy law reforms make non-support obligations from a divorce non-dischargeable, similar to other obligations like child support. Non-dischargeable debt means you maintain responsibility even after filing for bankruptcy. However, liability will come down to the specifics of your divorce agreement and the type of bankruptcy that is filed. If you or your ex-spouse is filing for bankruptcy, you should contact a divorce attorney immediately to find out how to best protect yourself.
Get the Legal Support You Need
​Before, During, and After Your Divorce
Are you or your ex having trouble upholding the terms agreed upon in your divorce? Unforeseen circumstances such as bankruptcy or loan defaults can throw off a divorce agreement and your future financial well-being if you do not know how to adapt. The divorce lawyers at The Dadvocates are dedicated to providing honest counsel and aggressive legal representation to men throughout Colorado. We are here to help you navigate any curveballs that come your way during or after a divorce and protect your best interests. Speak to an attorney online, or schedule a consultation at one of our conveniently located law offices throughout the state of Colorado. You can reach us at:
FAQs: Dividing Debt in a Divorce
If my spouse and I come to our own agreement on debt division, do we have to go to court?
Besides filing for divorce in court and finalizing the agreement in a short hearing, the majority of a divorce settlement can be reached outside of the courtroom. Spouses are not even required to abide by equitable distribution principles if both parties agree to a different arrangement for dividing assets and debt.
Does the court take into consideration unfaithfulness and other faults when dividing assets and debt?
No. Colorado, along with the rest of the United States, does not take into account adultery and other marital misconduct when dividing property and debt. While behavior can be relevant in determining whether a debt is marital or non-marital, it does not impact the equitable distribution principles.
When does the court place value on marital property?
Marital property is valued at the time you file for divorce at fair market value. If a significant period of time elapses between the date you file for divorce and the date of finalization, it is possible for the court to take into consideration the value changes.
Professional, Courteous Attorneys
"During the trial they were very well organized and they did all they could to fight for what was fair. They are very professional and courteous. Divorce/custody was the most stressful event in my life, the firm did all they could to take the weight off my shoulders and put my mind at ease..."

Ron Morales